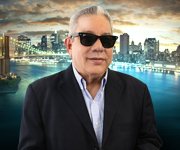 Francis Mendez was born in Jarabacoa, Dominican Republic. Francis' career as a radio personality began by accident in his native town with a somewhat humorous anecdote: Francis and four other friends where helping an agent of Rum Bermudez carry a banner into a van that was announcing the rum. However, one of the fuse on the equipment got damaged and had to be repaired. When fixed, Francis is asked to say something on the speaker to make sure the equipment working. Without hesitating, he began to read the text for the rum announcement. When the agent heard his great timbered voice, he shouted: "Right at this very moment, you are the radio personality for Rum Bermudez. You will earn five pesos weekly". When Radio Jarabacoa came about in 1967, Francis was asked to be part of the staff. On December 15, 1969 Francis debuted as one of the stars of HIAW Radio Guarachita.
For many years he was known as Señor Bolero on WPAT. He held the #1 show Sundays 10a-2pm for many years on WPAT-FM (sister station to WSKQ).
He can now be heard every morning 6a-11am as part of El Vacilon.

Francis Mendez