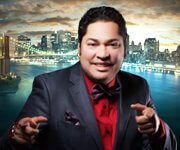 LUIS FEDERICO MARTINEZ "EL PACHA", was born in Santiago, Dominican Republic, captivating the Hispanic audience in New York with a different, youthful style since his very beginnings on the Telemundo Show "Santo Domingo Invita", up until his launch to every market in the United States.  Soon after that, he signed a contract with world-famous network Univision, and he joined several of their TV programs and radio shows, both in New York and in other states of the union.
As a main figure of the network, Frederick Martínez was part of the tv show "Al Despertar", broadcasted on channel 41 from 5 to 8 am, and which enjoyed great ratings amongst Hispanics in the tri-state area.  Said show was rebroadcasted on the Telefutura channel from 7 to 8 am.
He also took part in shows like "Escándalo TV", "El Gordo y la Flaca", "Despierta América", "Don Francisco Presenta", "Sábado Gigante", "La Tijera" and "Cien Méxicos Dijeron".  On the radio, he lent his distinctive talents to "Palo de la Tarde" alongside Coco Cabrera and Gisela Garcia", as well as in "El Pachatazo" Saturdays on Radio Wado 1280 AM, right after his success on FM radio. 

For his work, "El Pachá" has received numerous important awards and recognitions, such as 5 Casandra Awards, the highest recognition awarded to a Dominican Artist in the Caribbean Island, 3 trophies from the Broadcasters Association in Santiago, ACE awards, Globo Awards, the Golden Microphone in the Dominican Republic, and many distinctions from public office figures, such as Consulate Rafael Evans, Bronx Borough President Ruben Diaz Jr., and New York City Mayor Michael Bloomberg.  Presently, he is also the President of the Dominican Broadcasters Circle.
On May 28th, 2013, several international press outlets informed that Frederick Martinez (El Pachá) had resigned from the Univision network after 10 years of non-stop achievements, to accept a job offer that was going to guarantee a growth in his image and income.  An offer that would raise his profile on TV and Radio in New York and the United States.
If you had to name a Dominican figure that has broken stereotypes and has fulfilled all expectations in the present time, that Dominican is  Frederick Martínez (el Pachá), who as an entertainer and presenter has been solicited for many prestigious international events, in world renowned stages such as Madison Square Garden, Radio City Music Hall and the United Palace, just to name a few.  He is also notorious for his presence in social media, providing information and entertainment from his own website, www.elpacha.com, as well as in his Facebook and Twitter pages, and his own Youtube channel.

El Pacha