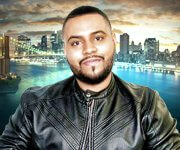 When you talk about young, talented, up and coming Latin/urban deejays from New York City, the name Dj Supreme doesn't fail to be mentioned. He's part of a new generation of latin deejays.
His parents immigrated to the states from the Dominican Republic in the late 1980's. Joel "DJ Supreme" Severino was born and raised in New York City. From a really young age he was enamored with music. By the time he was a teenager, he developed an interest in becoming a deejay. As a freshman in college he started deejaying local house parties. Soon after he began deejaying in top New York City nightclubs; bringing a new refreshing style and vibe to the New York City nightlife.
In early 2012, Dj Supreme began working for Spanish Broadcasting System, the home to the number one latin radio station in the world, La Mega 97.9 FM. He began as an intern in their promotions department. In just a short year, he was privileged enough to deejay live on-air broadcast's for special events and nightclubs.
Thanks to his hard work and dedication, in less than two years at SBS La Mega 97.9FM, DJ Supreme is the official on-air deejay and musical producer for New York City's number one afternoon radio show "El Jukeo". Dj Supreme is also the youngest on-air deejay on La Mega 97.9. The sky is the limit on his future and promising career.
DJ Supreme