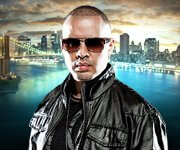 DJ Kazzanova is a pioneer in the world of Latin Urban Music. His career as a radio personality, remixer, and producer shows him as a "true original innovator and groundbreaking visionary."
DJ Kazzanova has performed in the hottest clubs, concerts and special events across the world including Tokyo, Geneva, London, Toronto, Zurich and many cities in Latin America.
He also has done work for major record labels, including Interscope, Universal, Def Jam, Cutting Records, and many others.
Today, DJ Kazzanova continues to break barriers and cross borders
as a DJ of La Mega 97.9 FM .
DJ Kazzanova