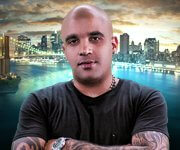 DJ Smalls is one of the top artists in the music industry and New York City club scene. Born in East Harlem, New York City, DJ Smalls (Kenneth Salcedo) started his career in the music industry in 1994. He stepped foot in his first nightclub which at the time was the renowned Las Vegas Night Club, and DJ'd alongside the big Latin artists of the moment, such as Marc Anthony, Gran Combo, Fernando Villalona, ect. What was once a hobby that started at house parties has now become his life and love.
In a short amount of time, DJ Smalls became one of the most solicited DJ in the TriState Area. He has played at legendary venues such as China Club, The Copacabana, and Latin Quarters. Smalls has also been recognized for his talents on BET's (Black Entertainment Television) Rap City by host of the show Big Tigger. In 2002, he was given the opportunity to partake in the DJ lineup for an up and coming radio station in NYC called Rumba 107.9 FM. Currently a Radio DJ for the most listened to Spanish radio Station in NYC, Mega 97.9 FM, he has gained an incredible following to his talent and music .
When he is not performing on the air or at Latin Hotspots throughout the city, Smalls is working on Star-studded events, such as BMG Pre- Latin Grammy Awards Gala and The 50 Mas Bellos Party for People en Espanol, to name a few. If that is not keeping him busy, Smalls also travels all around the world performing at top venues in places such as Las Vegas, Boston, Dominican Republic, Miami ect. As DJ Smalls notoriety grows, he has been nominated for a multitude of awards such as Latin Mixx's Best Tropical DJ of the Year award. DJ Smalls has also contributed to the rise of Nightlife in Uptown venues, and has been crowned Uptown's #1 DJ.
Don't let the name of this Spin-master fool you, DJ Smalls is becoming a real pioneer of Latin Music and Nightlife in New York City, and is paving the way for young artists in his field.
DJ Smalls