Mega 97.9 te puede enviar a Miami Beach!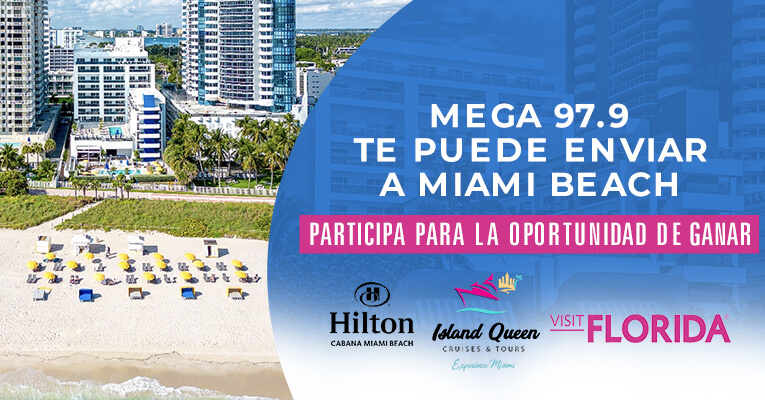 Escucha Mega 97.9 y El Vacilón de la Mañana cada día para tener la oportunidad de ganar unas lujosas vacaciones para cuatro en el Hilton Cabana de Miami Beach. Se trata de una estancia de tres noches con DJ en vivo junto a la piscina, playa privada y paseos en bici por el malecón. El premio también incluye vuelos, un vehículo de alquiler y un crucero por Millionair's Row en Miami, cortesía de Island Queen Cruises. ¡Todo brilla más en Florida! Escápate hoy con Mega 97.9.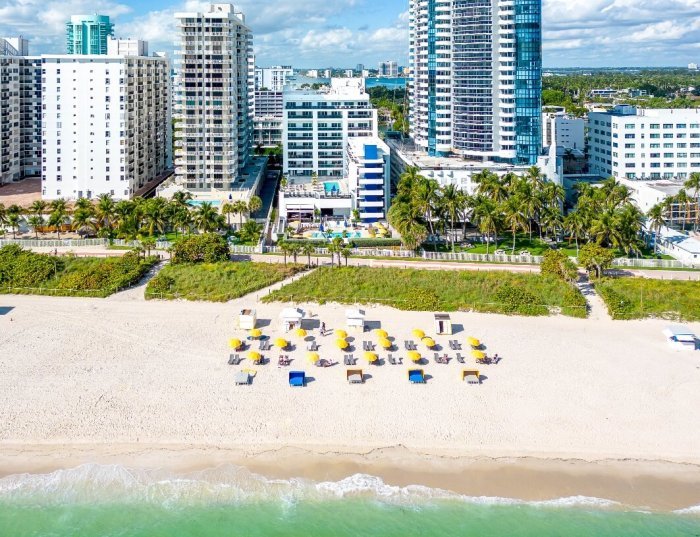 El paquete vacacional para cuatro personas incluye:
Tres (3) noches consecutivas de ocupación cuádruple en Hilton Cabana Miami Beach
Cuatro (4) boletos para el crucero Millionaire's Row a bordo de Island Queen Cruises
Boletos de avión de ida y vuelta en clase turista para un (1) ganador y hasta tres (3) invitados al Aeropuerto Internacional de Miami
Un vehículo mediano de alquiler por cuatro (4) días consecutivos
Hilton Cabana Miami Beach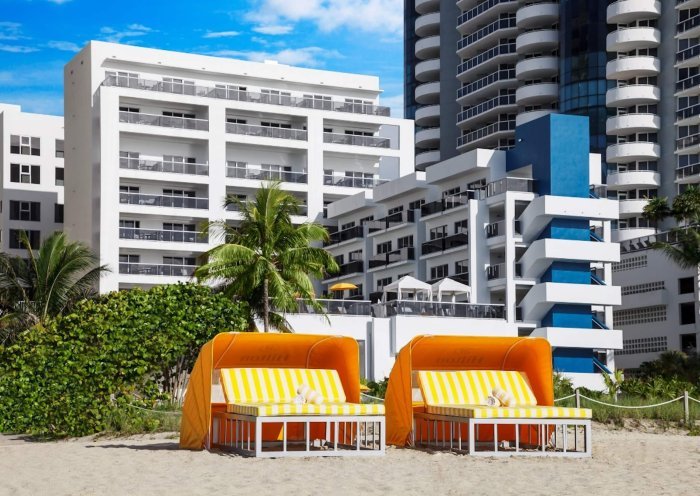 Con vista al Océano Atlántico, Hilton Cabana Miami Beach es un resort frente al mar ubicado en el centro del exclusivo vecindario conocido como Millionaire's Row en Mid-Beach Miami. Actualmente en proceso de renovación y se estima que estará terminado en septiembre, puede ser uno de los primeros en experimentar sus estilos art deco clásicos de Miami ingeniosamente diseñados. Sumérjase en sus dos piscinas al aire libre con vista al mar que cuentan con cabañas junto a la piscina, relájese en una playa privada, haga paddleboard en el océano Atlántico, disfrute de una emocionante fusión de cocina caribeña y latinoamericana, y explore Miami Beachwalk de 9 millas con bicicleta de cortesía. alquileres El complejo de estilo de vida de 231 habitaciones está a solo 4 millas del Centro de Convenciones de Miami Beach y de las mundialmente famosas tiendas y restaurantes de Lincoln Road, y está convenientemente ubicado a 12 millas de Port Miami y el Aeropuerto Internacional de Miami. Descubra el vibrante Design District de Miami, los dinámicos estadios deportivos y de entretenimiento y la variada cocina internacional.
Island Queen Cruises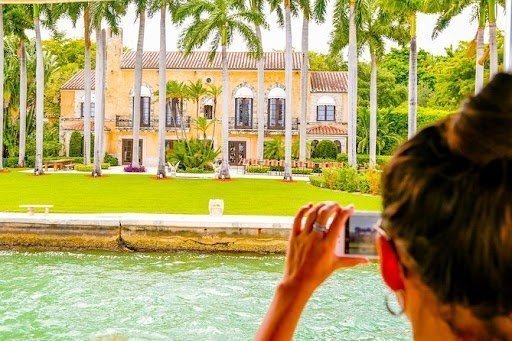 Explora Miami a bordo de un crucero turístico completamente narrado a lo largo de la pintoresca Bahía de Biscayne, ¡una actividad de primera categoría en Miami! Vea los espectaculares sitios costeros, incluido el hermoso horizonte del centro de Miami, el Puerto de Miami, Fisher Island, Miami Beach y "Millionaire's Row", las casas de los ricos y famosos. Contest Prize:
VISIT FLORIDA AND TOURISM INDUSTRY PARTNERS TO PROVIDE MEDIA PARTNER THE FOLLOWING: > Two (2) vacation packages for four (4) people, contingent on commitments from Tourism Industry Partners. Each package to include three (3) consecutive nights' hotel accommodations, round-trip coach class air transportation for four (4) people, and a four-day intermediate size rental car. Travel may be taken as long as no travel restrictions, stay at home orders, quarantine orders, shelter in place orders, "safer at home" orders, or similar orders or recommendations are in effect at either the winner's place of origin or destination. Valid approximately through August 31, 2024 and blackout dates may apply. Extensions of expiration dates will not be granted. Redemption instructions will accompany all certificates. Liability is limited to the cash value of the package. Vacation only to be used for this promotional opportunity and Florida will be the only vacation destination associated with this promotional program. Prize packages do not include travel to the departure airport or hotel (except as specifically included), meals (except as specifically included), airline baggage fees, incidentals, tips, telephone calls or any other personal expenses incurred during the winner's stay. Prizes are non-transferrable, cannot be sold or gifted, cannot be redeemed for cash value, and will not be replaced if lost or stolen. Prize winners must be one of the passengers booked in the travel party. Winners and guests must have all necessary photo identification and/or travel documents required to travel. 
Contest Prize Value:
$7,424.00 
Contest Start Date :
21 Aug 2023
Contest Start Time:
12am
Contest End Date:
10 Sept 2023
Contest End Time:
11p
Contest Winner Will Be Selected on:
11 Sept 2023 
Stations this contest runs on:
LaMusica – APP, LaMusica.com – Web, NY – Mega 97.9
Restricted Participants:
– Employees or agents of (i) Sponsor(s), (ii) Co-Sponsor(s), (iii) their respective parent companies, subsidiaries or affiliates, (iv) their service agencies or independent contractors, and (v) other stations in the service area are not eligible to participate.
– Persons involved in the development, production, distribution of materials, or the selection of the winner for this Contest are not eligible to participate.
– Persons who are immediate family or who reside in the same house of any person who is in any of the above categories are not eligible to participate.
Deja tu comentario