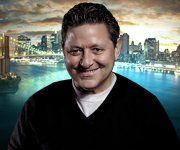 J.I.Starr "El Boriqua de New York" is a Radio Air Personality, DJ, voice-over artist, master of ceremonies and entrepreneur. Born in the Bronx and raised in Manhattan to Puerto Rican parents who hail from Mayaguez and Hormigueros, and loved Tito Rodriguez, Tito Puente, Ismael Rivera, Machito.

I took drums, piano and chorus at the High School of Music and Art then left for traditional High School. Although mom is a classically trained pianist, I never grabbed that knowledge when it was at my fingertips, dumb move! I guess I am probably a frustrated musician.

The dream to broadcast on NYC radio airwaves was realized in 1979 as a mix-show DJ on the original 92 KTU FM. It all started as an internship with the programming department and included recording reels for the daily "custom music mixes".

I worked directly with the late Rosco Mercer, who was my true inspiration for pursuing a career in radio. His smooth delivery and charm was something I wanted to emulate, so I registered for announcer training, took some personal speech classes and one year later………

…..First stop WVIP radio, Mt. Kisco, New York. Full-time afternoon drive DJ on contemporary jazz station 1310 VIP as Joseph Starr and the swing shift DJ on sister station 106 VIP FM as J.I.Starr playing top 40…for a short while a part-time show on New Jersey's WNJR followed where I programmed disco/dance classics with Carlos Dejesus. I earned a living as a club DJ and master of ceremonies at the time when disco classics ruled the programming. Armed with a love for this music, in 1986 I kicked off the Disco Classics Show on 91.5 FM New York…the run lasted four years. In 1994 J.I.Starr started to record voice-overs that aired mostly on WSKQ then known as FM 98. The program director asked J.I. if he was interested in doing his own show.

….. The Sound of New York was born on Mega 97.9FM. J.I.Starr produced and hosted the show programming Salsa, Merengue, Freestyle and some Reggae. Presently J.I.Starr can be heard Sundays from 8pm-12am, and broadcasting live from various clubs in New York and New Jersey. He has hosted the station sponsored concerts at Madison Square Garden on several occasions, as well as, Radio City Music Hall, the Beacon Theatre, Continental Airlines Arena, the Tribute to Tito Puente at Lincoln Center, Orchard Beach Latin concert series and South Street Seaport Latin music series to name a few.

Voice-overs are a passion for me, I love going on auditions and conveying the producers' vision for Radio and TV commercials. In addition to voice-overs in English, I am Spanish-speaking and have carved a niche for myself over the years with bi-lingual spots and narrations that are extremely satisfying to perform. J.I.Starr is an avid mountain biker and always looking for the right product to endorse that combine his two passions in life.
Articulos
MÁS DJ'S